Celebrating a Decade of Privacy: StartMail Turns 10
Ten years ago, we embarked on a mission to redefine email privacy. With the support of over 50,000 users who joined us for our beta launch, the first-ever email from StartMail was sent on November 5th, 2013. This marked the beginning of our journey towards creating safer and more private email communication. As we celebrate a decade of providing private email services, we want to express our deepest gratitude to all our loyal customers and supporters. Your trust and support have been instrumental in shaping StartMail into a trusted and reliable email provider for people across the globe.
A Look Back at the Last Decade
Over the past ten years, we have continuously worked to enhance our services and innovate new features. We have listened to your feedback and implemented changes to better meet your needs. It has been a constant process of improvement and innovation, and we are pleased with how far we have come. If you're interested in revisiting our journey and milestones, take a look at this infographic: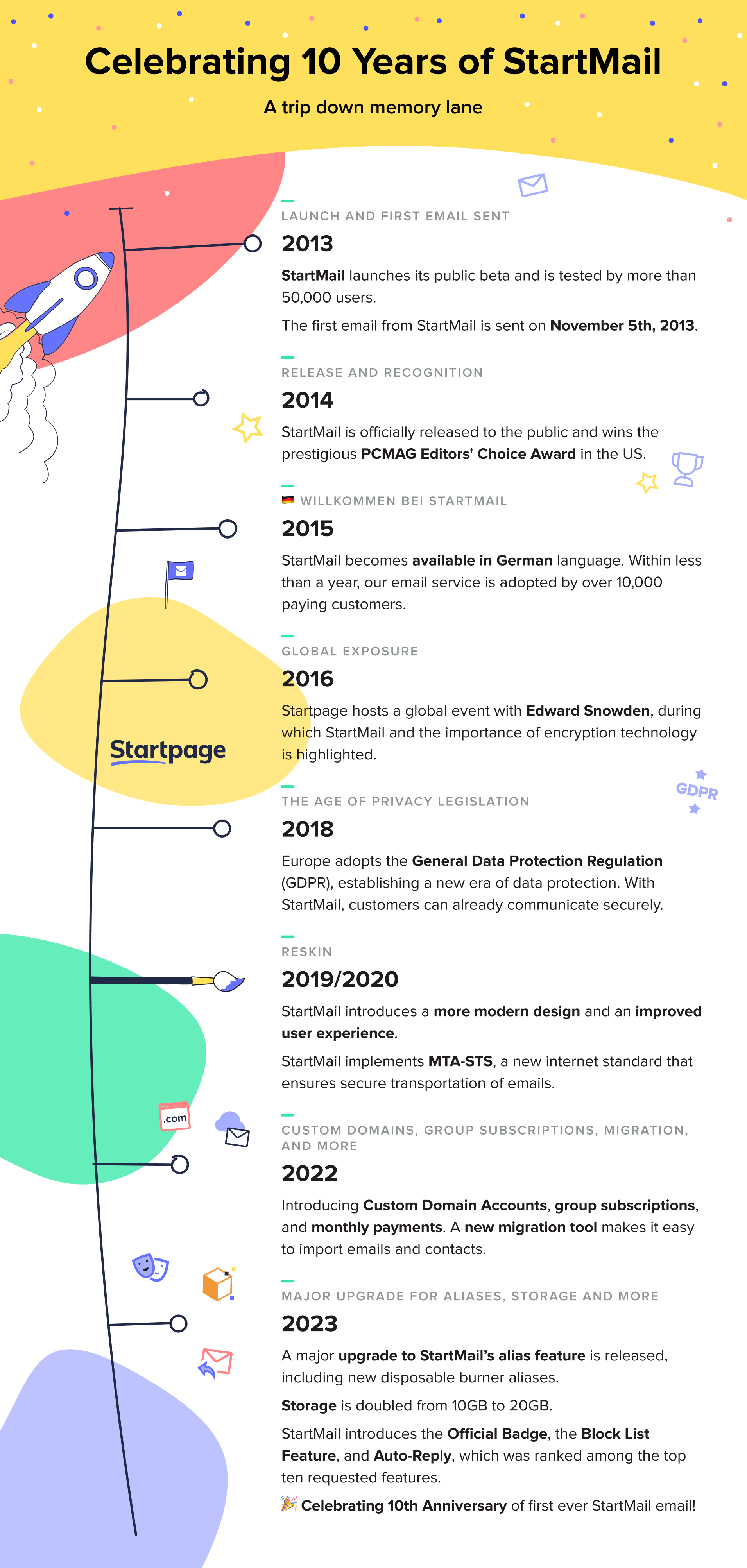 Reflecting on our journey, we are proud of the impact we have made. Countless individuals and organizations have turned to StartMail for their email needs, knowing that their information is safe and secure with us.
Moving Forward: The Future of StartMail and Our Promise to You
As we look towards the future, we are filled with excitement and determination. Our commitment to providing secure and private email services remains as strong as ever as we work towards a future where privacy is a fundamental right, rather than something that must be constantly defended or fought for.
One of our key goals is to continue improving and enhancing our services based on your feedback. We believe in the power of listening to our customers and learning from your experiences. Your insights guide our innovation, helping us to create a service that meets all your email communication needs.
We have big plans for the coming years, and we want to assure you that no matter how much we grow or evolve, your privacy will always be our top priority. We understand the trust you place in us when you choose StartMail, and we don't take that lightly. We are committed to earning that trust every day, with every email you send.
Thank you for being a part of this incredible journey. Your support has made StartMail what it is today, and it will shape what we become tomorrow.
Here's to many more years of secure and private email communication!