Introducing Auto-Reply
At StartMail, we understand the importance of privacy and convenience in your email experience. That's why we are excited to announce our latest feature, Auto-Reply, which ranks among the top ten requested features by our customers.
Life can get busy, and there are times when you need a break from your inbox. Whether you're off on a well-deserved vacation, focused on a critical project, or simply need some uninterrupted downtime, our Auto-Reply is here to help notify your friends, family, colleagues, or clients that you're temporarily unavailable.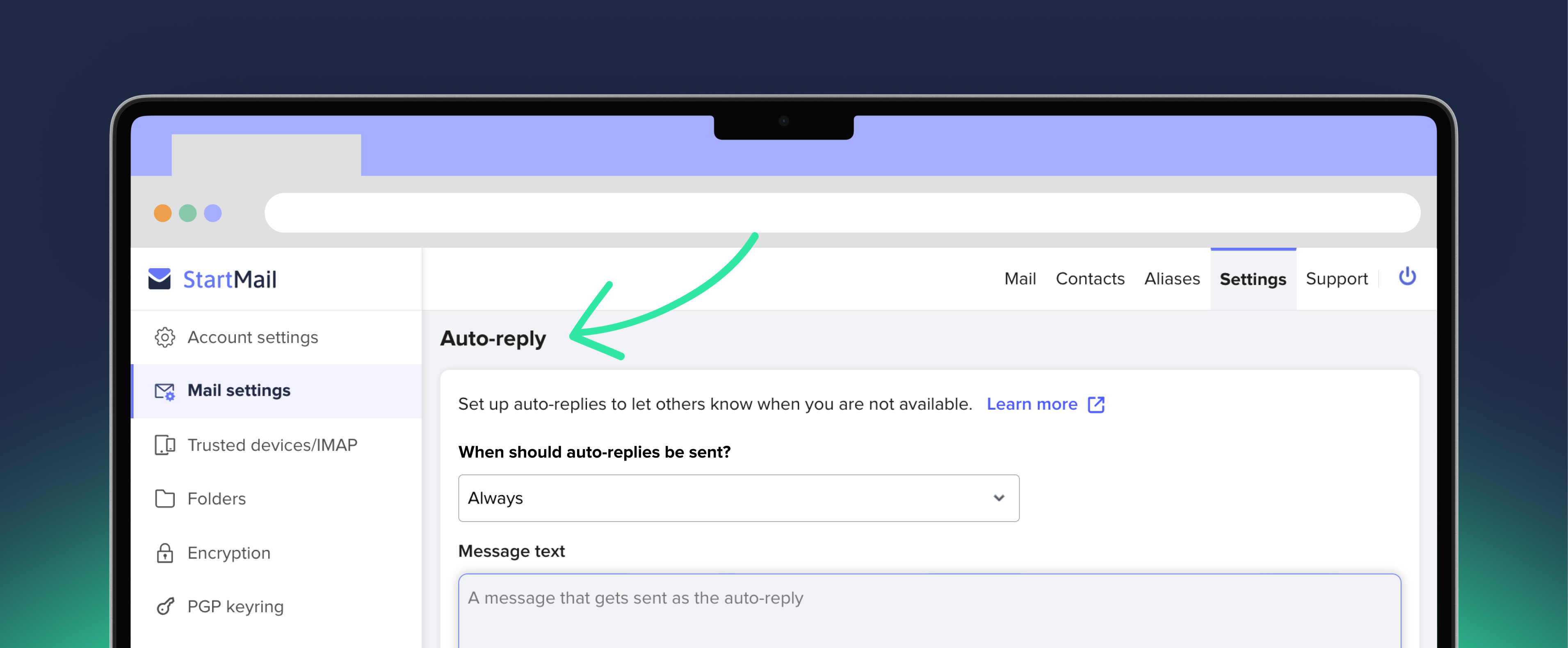 Setting Up Auto-Reply is Easy
Getting started with Auto-Reply is simple. Here's how it works:
1. Log in: First things first, log in to your StartMail account at https://mail.startmail.com
2. Navigate to Mail Settings: Head over to the settings menu, and you'll find the Auto-Reply feature under "Mail Settings."
3. Easy Configuration: Choose whether you want the auto-reply to be active "Always", "Never", or set it for a specific duration like an out-of-office message.
4. Flexible Scheduling: Set the start and end dates for your Auto-Reply to ensure it activates only when you truly need it. Plan ahead for vacations, conferences, or any time when you won't be available to check your inbox. Pro tip: Don't forget to select the correct time zone!
5. Smart Sending Frequency: We have designed the Auto-Reply to be considerate of your contacts. It will send auto-replies at most once every few days to a specific recipient. So, if your contact receives an auto-reply from you and they continue to send you messages, they will not receive another one for a few days.
If you have any questions or need assistance with the Auto-Reply feature, our support team is here to help. Feel free to reach out at support@startmail.com or visit our Support Center article for detailed instructions.