Release Notes January 2021
What's new in StartMail?
Welcome to this month's release notes! Below you'll find the latest product improvements, promos, and news, plus a sneak peek of our product's reskin!
📣 News
Webcam covers!
As a token of our appreciation for being part of the StartMail family, we want to give you a camera cover. Here's how it works:
Send an email to 

webcam@startmail.com

.
Include your StartMail email address and your mailing address.
We will send the webcam cover to you.
Your credentials will then be deleted from our system.   
📈 Performance Improvement
Webmail Performance
We've improved the performance of our webmail by using an extra caching layer in the backend. It should feel much snappier now!
🎁 What is next?
Reskin
We are working on a new design for your StartMail. This will include a new style and tooltips that will guide you and provide tips on using StartMail – taking our encrypted email experience to the next level! Here's a sneak peek!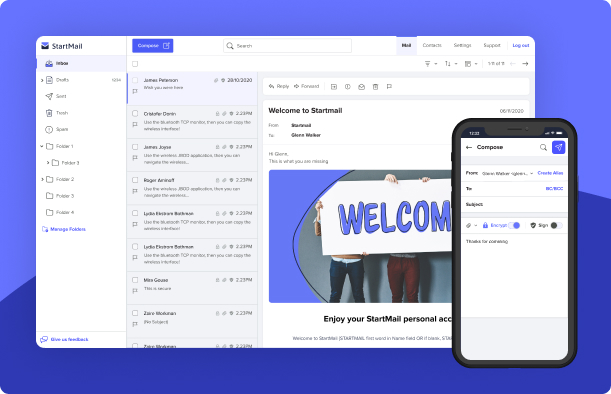 Valentines Day
With Valentines Day just around the corner, we wanted you to share the love for privacy with your loved ones with our referral program! You and your friend can both earn a 50% discount for an account renewal or upgrade!